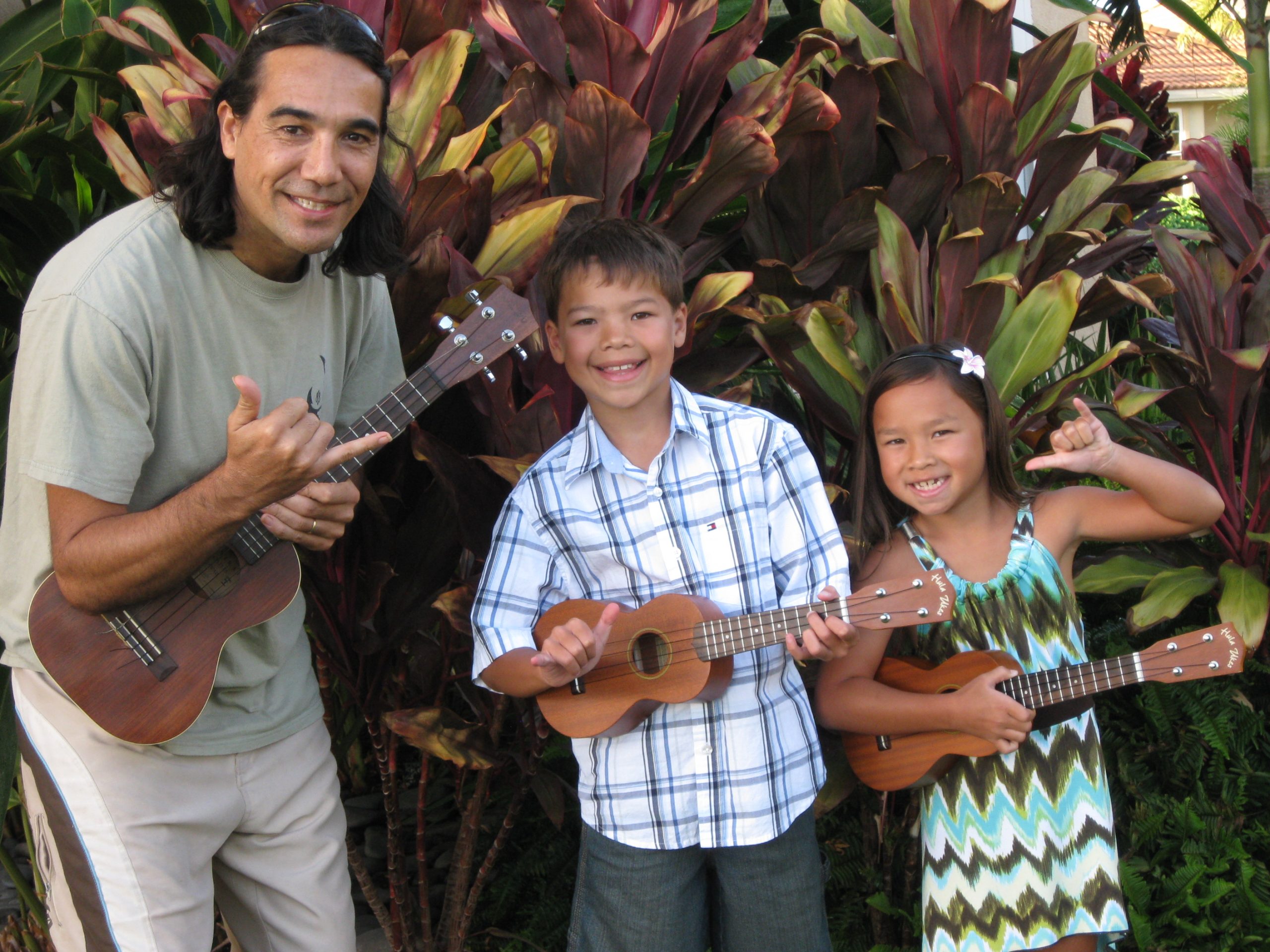 How Long I've Been Teaching
"Unofficially" (by osmosis/the request of fellow High School students), I began showing others how to play during 1980 – 1984. After graduation, I began a career as Maritime Captain. Although I remained an avid player, teaching subsided until I co-founded a band 12 years later and by osmosis again, inquiries to teach started trickling in.
Professionally, I've been teaching since 1996. To date, I've taught hundreds of international students from the early age of 4, to 70+ "still feelin' young!"
Students from Hawaii, other Pacific Island Nations, North & South America, Asia, Europe, etc. – My family (wife, 6 young adults in their 20's AND a 2-year-old grandson) can all play an instrument(s) and/or enjoy singing. Music enriches our lives in many ways.
My Experience
(live performing & studio recording)
An Acoustic/Electric Guitarist/Ukulele Player for over 3 decades, I currently perform solo for private events. Every once in a while, I might be seen jamming with a band. On Maui, I worked on-call as assistant engineer /studio guitarist for Grace Recording Studio, whose clientele include:
Hawaiian Slack-key Legends
Hawaiian Music "Na Hoku" Award Winners
Grammy Award Winners
Gold/Platinum Artists and Producers
Hollywood Movie/Sound Production
MTV
Stylistically, I'm quite versatile and cover a wide range of popular genres: Pop, Rock, Reggae, Blues, Country, R&B, Funk, Gospel/Worship, etc… My favorite is composing and playing "Original Music" which combines these genres with elements of Slide Guitar, Hawaiian Slack-key, Percussive Slap/Tap, Flamenco, Ethnic (ie. India, Celtic), Classical, etc.
Over the years, I've had the opportunity to sit in and jam/share the stage with other great guitarists/songwriters. Most notably country music legend Willie Nelson, Kris Kristofferson, and Pat Simmons of the Doobie Brothers.